Falling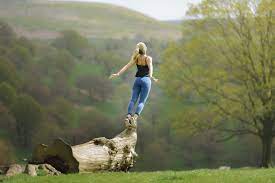 Take a deep breath
close your eyes
and fall
Fall into the abysses of healing and peace
Fall into the arms of those who reciprocate the same flourishing feelings
Fall onto the meadows full of flowers, without the worry of ruining your clothes
Doubting they will turn around and curse you out for staining them
They will not be bothered, but will you?
Will a small stain from rolling down a simple meadow somehow halt your reservoir of joy?
Swim down the streams of healing
Do cannonballs into the pools of self love
Dive into the oceans of acceptance
Surf on the waves of good days
Take a breathe and absorb the good life you have feasted upon your eyes
Devour those goals and accomplishments that live in frames on the walls of your bedroom
Life is like the tide, in and out, happy and sad
Peace will follow you wherever you follow peace
Peace will not run away from you unless you tend to release
Falling isn't always about scratches, blood, and pain
But of
deep breathes
closed eyes
and evolving.